Listening and engaging where we operate.
SECURE builds lasting relationships through engagement and discussions with a focus on respect, diversity and inclusion. It all starts where we live and work. SECURE believes in sharing success with the local communities where we operate. We believe in responsibly overseeing:
---
Indigenous Relationships
We acknowledge the rights and interests of Aboriginal communities and we are dedicated to promoting a business culture that is inclusive and respects diversity. As part of our commitment to this value, we are a proud member of:
We believe these groups support building and strengthening of effective business relationships, personal development and shared prosperity between aboriginal communities and our industry.
Focusing on courteous and respectful behaviour throughout all stages of development and ongoing operations is reflective of our values (specifically "treating others the way you want to be treated" and "acting with integrity").
In the communities where we live and work, being a good neighbour means:
Minimizing impacts associated with our operations
Working with local businesses to create mutual value
These responsibilities are shared between SECURE's employees, contractors and vendors and demonstrate our commitment to be respectful and responsible corporate neighbours.
---
Joint Venture Partnership - Birch Mountain Enterprises and SECURE.
Together, providing waste logistics and disposal options in Alberta's Oil Sands region.
Formed in August 2018, we are proud to maintain a joint venture and respectful working relationship with the Fort MacKay community through Birch Mountain Secure, our joint venture company. This synergistic relationship allows us to service our customers with the transportation logistics strength of Birch Mountain Enterprises and our hands-on expertise and equipment experience.
Reach out to us, we can help:
---
Pipeline Resources & Public Awareness
We do more than is asked of us and go beyond just compliance. In support of ensuring that our industry and communities we serve are protected for future generations. We are proud of our commitment to exceed regulatory requirements through our products and curated customer service. Safety is rooted in all that we do. We work with our customers, neighbours and landowners to keep our operations safe and this includes knowing what to look for and when to call when things don't seem right.
Here are some signs signs of an oil pipeline release:
Moist patch or pool on the ground right-of-way area
Liquid spraying over pipeline
Rainbow sheen on surface
Discoloured vegetation on or near a pipeline
Stained or melted snow or ice over pipeline area
Odour like gasoline or diesel fuel or rotten egg
Roaring, blowing or hissing sounds
If you are alerted to any of the conditions above, please contact our 24 hour emergency line at 1-877-518-4321. We are proud of our commitment to safety and sustainability in our communities, they are rooted in all that we do.
SECURE's pipeline system is governed under rules and regulations set by the Saskatchewan Ministry of Energy and Resources.
Call Before you Dig
Call or Click before you dig programs reduce damage and associated costs to essential underground facilities, such as a pipelines, and enhance safety for the public, contractors, structures and emergency services.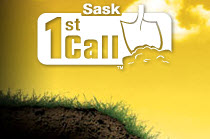 In Saskatchewan, the Click or Call Before you Dig is Sask 1st Call. This service is for anyone planning to dig or excavate and provides underground facility screening and notification for excavators. Contact Sask 1st Call at least two full working days before your proposed excavation (not including the day of request).
Call: 1-866-828-4888 (#4888 on the SaskTel wireless network)
---
Roles & Responsibilities
Pipeline safety is a shared-responsibility between us and our customers/neighbours. It's important to review and understand roles and what to do in the event of ground disturbance or oil release.
How it works:
A pipeline is installed within a strip of land known as a right-of-way

SECURE acquires rights to use this land for the construction, operation and maintenance of its

pipelines

Ownership of the land remains with the landowner

Activities within the right-of-way are governed by the provincial and federal regulations and easement agreements negotiated between the landowner and SECURE

The safety zone extends 300 m (984 feet) on either side of the centreline of the pipe

Ground disturbance within this zone requires consent from SECURE and to contact Click or Call Before You Dig
To always ensure safety is top-of-mind, contact SECURE and Click or Call Before You Dig before:
Operating vehicles or mobile equipment on/over the right-of-way

Reducing depth of soil covering the pipeline

Agricultural ploughing or tilling 45 cm and below

Gardening or ground leveling below 30 cm (1 foot)

Planting trees or hedges

Installing drainage systems, pools or hot tubs, expanding home footprint

Augering

Fencing
We mark the presence of our pipelines with pipeline markers spaced along the right-of-way. Although the markers identify that a pipeline is in the area, they cannot be relied upon to give an exact location or depth of the pipeline.
The markers indicate that SECURE owns the pipeline, the type of product being transported and our 24 hour emergency contact number: 1-877-518-4321.